LATEST NEWS, inside the BPS
Commissioner Frederick C. B. 'Penny' Bean Community Meeting & Media Room Official Opening
Sun, 2019-07-21

At a 3pm ceremony held Friday, July 19th, Commissioner of Police Stephen Corbishley officially renamed the Community Meeting & Media Room on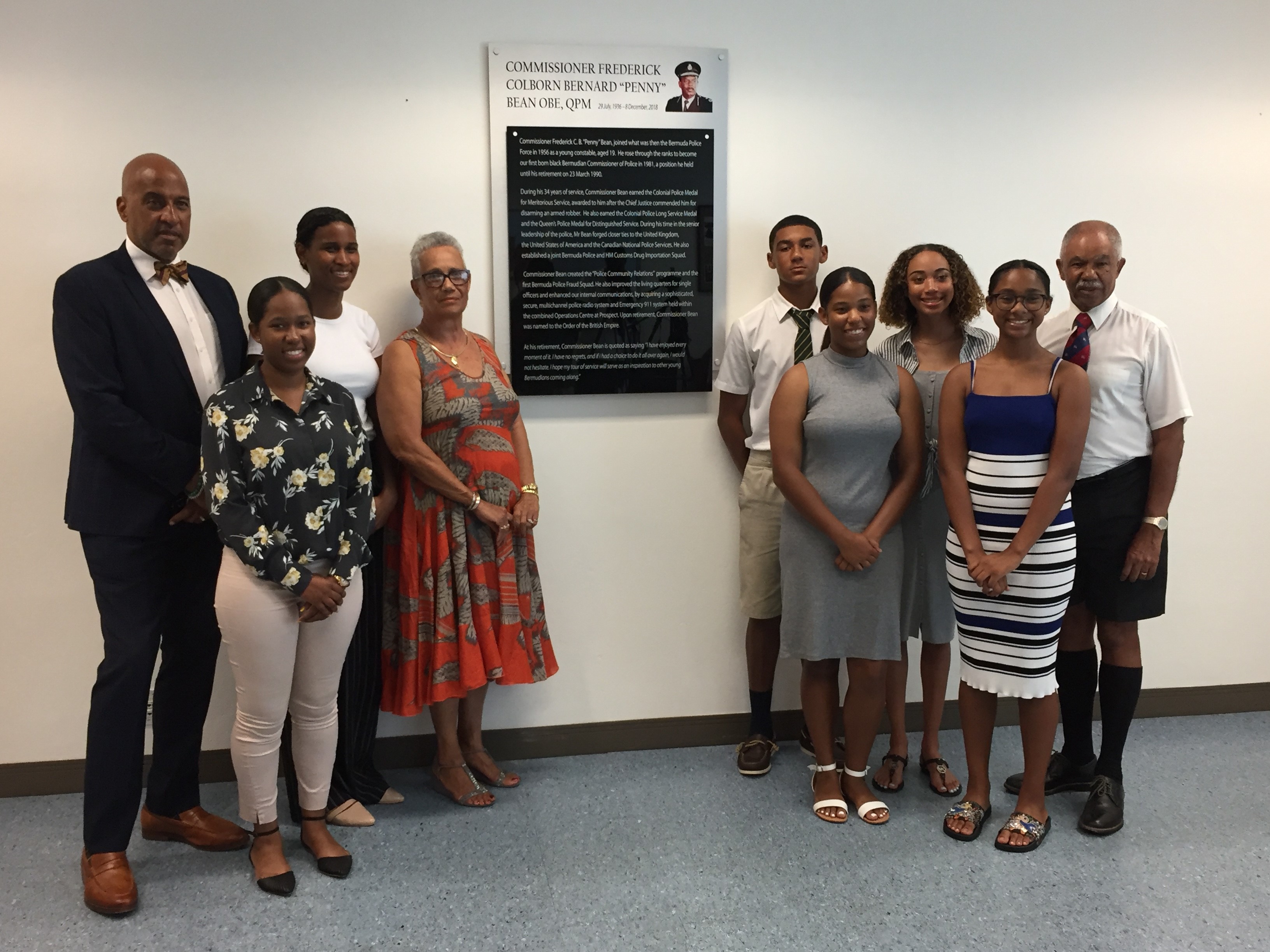 the ground floor of Hamilton Police Station in memory of the late Commissioner of Police (Retired) Frederick C. B. 'Penny' Bean.
Commissioner Bean's wife Mrs. Romaine Bean and members of his family as well as three former managers of the Community/Public & Media Relations office (retired Chief Inspector Roger Sherratt, Ms. Evelyn James Barnett and Mr. Dwayne Caines) attended Friday's ceremony.
15 Year Old Brittonie Taylor Reported Missing Again [Located]
Sun, 2019-07-21

The Bermuda Police Service is once again appealing for the public's assistance in locating 15 year old Brittonie Taylor.
He was reported missing last night (Saturday, July 20th) from the Aeolia Drive, Devonshire area.
The young man is described as dark complexioned, approximately 5 feet 7 inches tall of slim build weighing around 130 pounds with his hair in an Afro and was last seen wearing black sweatpants as well as a black top.
Apparently the teen is known to travel on foot, by bus or taxi – and is understood to frequent the My Lord's Bay Lane, Hamilton parish area.
Man Arrested in Connection With Local 'Drill' Music Video Promoting Violence Against Police Officers
Fri, 2019-07-19

The Bermuda Police Service (BPS) is aware of a local 'Drill' music video being circulated on social media promoting violence against police officers.
While freedom of speech is protected under law, inciting violence is not and we thoroughly condemn the message being promoted in this video – or any communication that suggests or threatens violence against any member of the public.
Driver Remains Stable in ICU After Two Car Collision Early Sunday
Thu, 2019-07-18

At last check this morning (July 18th) the 58 year old male driver injured in a two car collision that occurred around 2:40am Sunday, July 14th on South Road in Paget, near the junction with Happy Talk Lane, remained in stable condition in the hospital's Intensive Care Unit.
Inquiries continue and any witnesses are still asked to call the main police telephone number 295-0011 as soon as possible.
Commissioner Comments on Recent BPS Staff Satisfaction Survey
Wed, 2019-07-17

The Bermuda Police Service (BPS) will today share with officers and staff the results of a recent staff satisfaction survey, with Commissioner of Police Stephen Corbishley commenting:
"As part of our 7 Ambitions change programme it is essential we have the views of officers and staff to ensure the BPS grows as an organisation that values its employees and enables them to reach their full potential.
Community Clinic at Bermuda Aquarium Museum & Zoo Saturday
Wed, 2019-07-17

The Parish Constable for Hamilton parish, Constable Litanya Smith, will be conducting a community outreach clinic to meet and greet area residents Saturday, July 20th from 11am until 2pm at the Bermuda Aquarium, Museum and Zoo.
Members of the public are encouraged to attend to discuss any concerns they may have regarding their neighbourhoods and to receive general crime prevention advice.
Motorcyclist Injured After Collision With Truck in Southampton
Tue, 2019-07-16

Around 10pm Monday, July 15th police and fellow first responders were dispatched to a reported two vehicle collision at the junction of Lighthouse Road and Harbour View Drive in Southampton, involving an intermediate truck and a motorcycle.
The motorcyclist, said to be a 57 year old Southampton man, is understood to have sustained a laceration to his neck and was transported to King Edward VII Memorial Hospital via ambulance for treatment.


BPS PHOTOS


BPS TWEETS


bps facebook

security advice for women

Reduce the risk of
becoming a victim of crime with
these simple tips.
Read More >>

robbery prevention

Take steps to reduce the
opportunities for criminals to steal.
Read More >>