LATEST NEWS, inside the BPS
20 Year Old Male Motorcyclist Hospitalised After Collision With Truck
Wed, 2020-02-05

Around 11:10am Tuesday, February 4th police, Bermuda Fire & Rescue Service as well as ambulance personnel were dispatched to a reported two vehicle collision at the junction of Middle Road and Verdmont Road in Smith's parish.
It appears that a truck was being driven east along Middle Road and a motorcyclist was traveling in the opposite direction along Middle Road when the collision occurred, as the truck driver turned on to Verdmont Road.
Police Actively Searching for Two Suspects After 26 Year Old Man Shot
Mon, 2020-02-03

Around 2:30pm today (Monday, February 3rd), a 26 year old man was near the bus stop between Dock Hill and The Glebe Road in the North Shore Road, Devonshire area when two men on a motorcycle approached him and discharged a firearm.
He was hit multiple times and ran off in an easterly direction attempting to flag down vehicles. He was subsequently taken to hospital in a private vehicle and at last check was undergoing surgery.
Witness Appeal: Assault on Off Duty Corrections Officer
Mon, 2020-02-03

At about 6am today, Monday 3rd February, an off-duty Corrections Officer was out jogging on South Road in Southampton.
He was approached by persons on a motorcycle, who struck him in the head and rode off.
The 40 year-old male victim is being treated at King Edward hospital for a laceration to his head.
The Bermuda Police Service Criminal Investigations Unit is investigating the matter and wishes to speak with anyone who may have any information, or may have seen this incident.
Sudden Death of 54 Year Old Simon Hodgson
Sun, 2020-02-02

The Bermuda Police Service can now confirm the death of 54 year old Simon Hodgson and extends sincere condolences to his family and friends.
Police and ambulance personnel were dispatched to a South Road, Southampton residence around 7:30am Thursday, January 30th where Mr. Hodgson – who is understood to have resided in the City of Hamilton – was found unresponsive at the bottom of a staircase outside the home by a houseguest.
Female Motorcyclist Struck by Car Hospitalised: Male Driver Arrested
Fri, 2020-01-31

Around 12:50am Friday, January 31st police and fellow first responders attended a reported two vehicle collision on North Shore Road in Devonshire.
It appears that a 30 year old Hamilton parish woman motorcyclist was traveling east along North Shore Road when a car driven out of the parking lot of Robinson Bay Park struck her.
3 Men Arrested in Connection With Gold Standard Armed Robbery
Thu, 2020-01-30

Detective Superintendent Nicholas Pedro, Crime Division – Three men were taken into custody overnight from a residence in Warwick in relation to the armed robbery at Gold Standard in the Washington Mall.
The men, aged between 19 & 24 years old, remain in custody while detectives continue their investigations. They have been arrested on suspicion of robbery.
Inquiries Into Armed Robbery at Washington Mall Gold Standard Store [Updated]
Wed, 2020-01-29

Detective Superintendent Nicholas Pedro, Officer in Charge, Crime Division – At about 9:30am this morning, two men on a motorcycle rode into the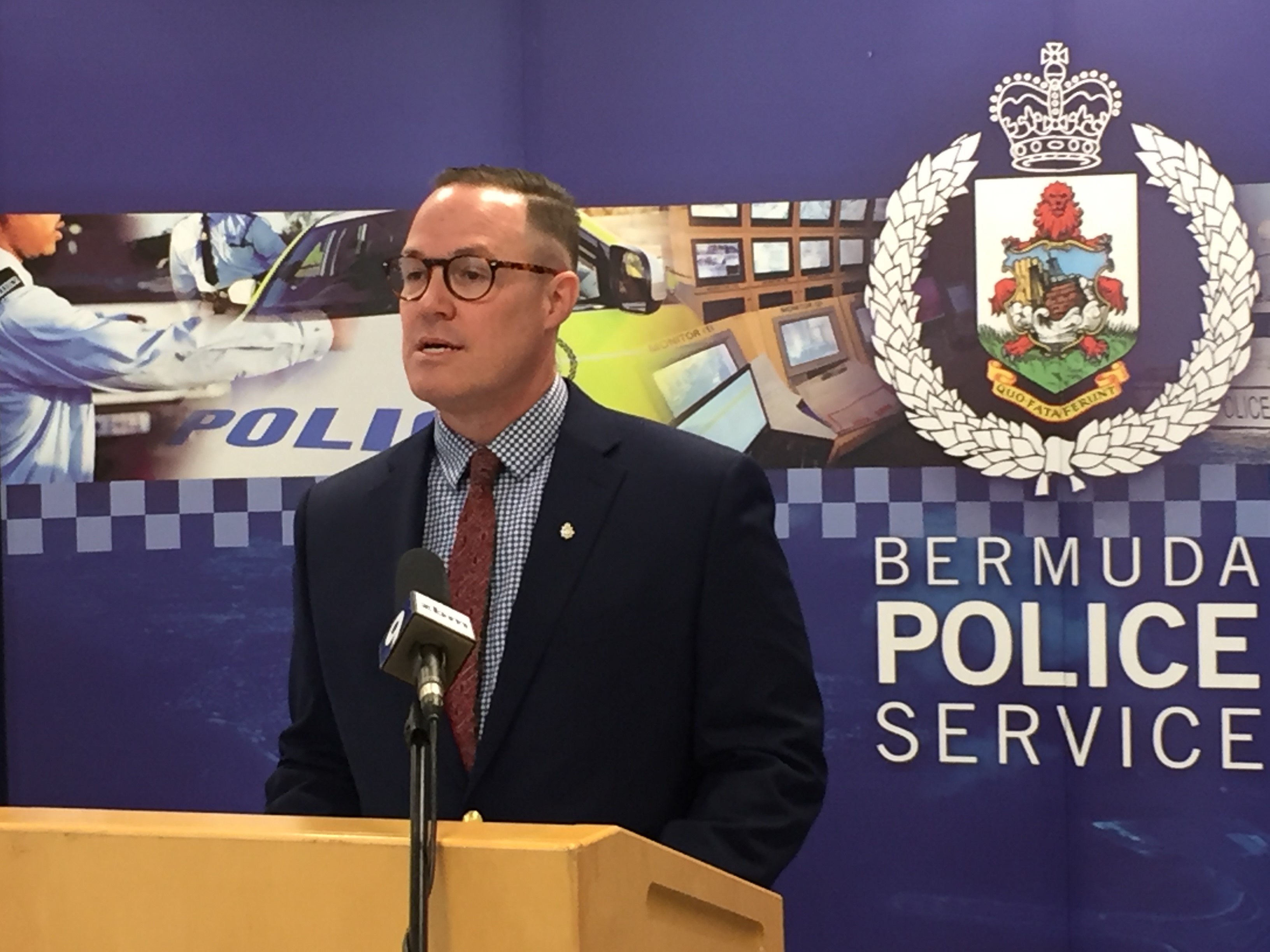 walkway of Washington Mall from the Church Street entrance.
The cycle travelled south along the pedestrian walkway on the second level of the Mall, and parked inside of the mall just after entering the double sliding doors. The two suspects dismounted the cycle and both of them ran along the second level of the mall and into the Gold Standard premises.
Suspect 1 was carrying what appeared to be a firearm. Suspect 2 then proceeded to break the large display cabinet with a tool that he was carrying in his hand, whilst Suspect 1 emptied another display cabinet. Both suspects placed as many items as they could into bags they were carrying. They then exited Gold Standard, running back to the parked motorcycle. The motorcycle then travelled north on the pedestrian walkway on the second level of the mall, turned right onto Church Street and made good their escape with a quantity of jewellery that was stolen from the premises.


BPS PHOTOS


BPS TWEETS


bps facebook

security advice for women

Reduce the risk of
becoming a victim of crime with
these simple tips.
Read More >>

robbery prevention

Take steps to reduce the
opportunities for criminals to steal.
Read More >>