LATEST NEWS, inside the BPS
Eastern Community Clinic This Coming Wednesday
Thu, 2014-08-14

The Eastern Community Action Team will be hosting a Police Community Clinic on Wednesday August 20th from10am - 12pm and again from 4pm - 6pm at the Shelly Bay Market Place, Hamilton Parish.
Stabbing Incident in Pembroke
Tue, 2014-08-12

Around 5:27pm on Monday August 11th, Police received a report of a stabbing at a Crossland Lane, Pembroke residence. Police attended the residence a short time later and found the victim, a 62 year old Pembroke man, lying outside on the steps to apartment in an unresponsive state.
Flight Diversion
Tue, 2014-08-12

At approximately 10:25am on Tuesday, August 12th first responders attended L.F. Wade International Airport regarding a flight diversion to Bermuda for medical reasons.
Serious Road Traffic Collision
Sat, 2014-08-09

Police responded to a report of a road traffic collision that took place at 9:52 pm on Saturday night. It appears that a car was travelling west on Middle Road in Sandys just 200 meters west of Spring Benny Road when the driver of the vehicle lost control and hit the curb and subsiquently a tree.
Update on Theft from Rental Cycle
Thu, 2014-08-07

Police are still seeking the public's assistance in identifying the 2 individuals that took part in a brazen daytime theft from a rental cycle on Tuesday. Attached are pictures that show a little more detail and we are still seeking the public's assistance in identifying these individuals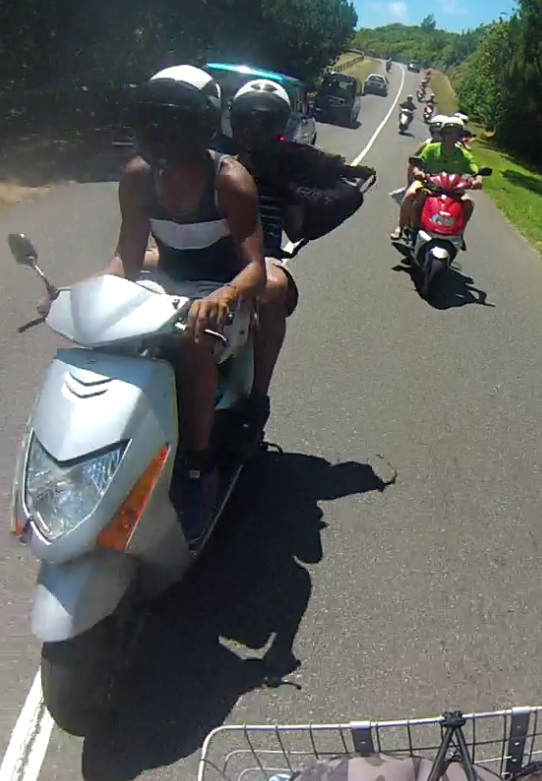 Police Highly Visible Over Cup Match Holiday Weekend
Mon, 2014-08-04

Detective Superintendent James Howard - The Bermuda Police Service (BPS) takes this opportunity to thank the public for their patience and assistance over the busy Cup Match holiday period.
This is always a challenging time for the police as we spread our resources to cover at least eight major events that collectively see more than 30,000 people in attendance.
Updates on Recent Reported Serious Collisions
Mon, 2014-08-04

At last check earlier today, the 28 year old Warwick woman injured when the motorcycle she was riding collided with a taxi along Parsons Road near the junction with Deepdale Road West in Pembroke around 11:30pm Saturday, August 2nd was recovering at the hospital's Intensive Care Unit in stable condition. The male taxi driver and female taxi passenger also injured in this collision had less serious wounds. He was treated at the hospital and later discharged while her injuries apparently did not require hospital treatment.


BPS PHOTOS


BPS TWEETS


bps facebook

security advice for women

Reduce the risk of
becoming a victim of crime with
these simple tips.
Read More >>

robbery prevention

Take steps to reduce the
opportunities for criminals to steal.
Read More >>